Our vineyards.
Centuries-old vines.
It was in the 1920s that ANASTASIA ALAZAY, a great-grandmother of Greek origin, created the wine estate. At that time, the first vines mingled with fruit trees and forests, not far from the old farms.
On the paternal side, the COURTEN family were illustrious Swiss soldiers who had their own regiment. The coat of arms, a strong element of the identity of the domain, originates from this period.
Charles ALAZAY and Aline de COURTEN passed on this heritage to Christophe de Courten at the age of 11: grape harvesting, working the land, wine-making methods. Thirty years later, it is a pride to work the hundred-year-old vines planted by our ancestors. What a pleasure it is to walk every day along the rows of vines over which the horses and ploughs of the time have passed !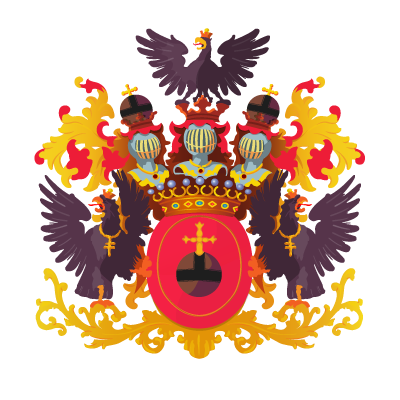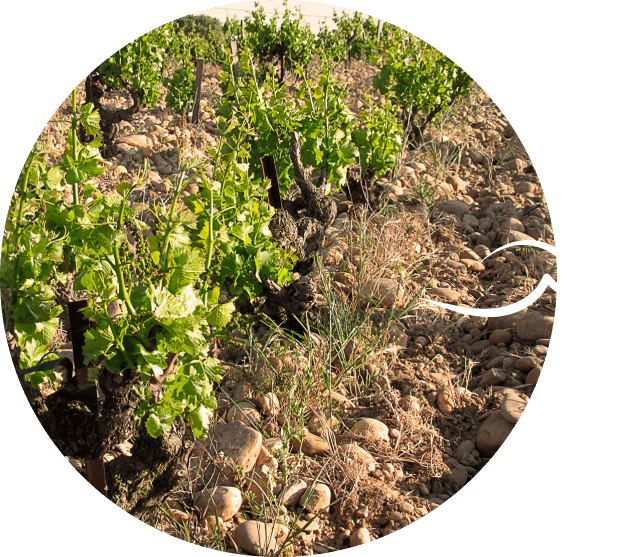 The land.
From the Alps to the banks of the Rhone.
The territory of the AOC Châteauneuf-du-Pape is located in the heart of a plain halfway between two prestigious cities, Avignon and Orange. The Domaine du Comte Christophe de COURTEN is located on the left bank of the Rhone River in the immediate vicinity of the Château.
For thousands of years, the Rhône has been tearing away the stones of the Alps, following the quaternary glaciations. These blocks are transformed into pebbles which are deposited near Châteauneuf-du-Pape. These pebbles are a trademark of the appellation's terroir.
By releasing the heat of the day, the grapes reach a perfect ripening. They also prevent the development of certain diseases by evaporation of water.
The subsoil is generally made up of red clay allowing deep rooting and an exceptional quality of the old vines.

Red
Grenache noir (plateaux and hillsides), syrah, mourvèdre (lowlands).
White
Roussane, pink and white clairette, and white grenache.
Our wines come from different soils: sandy, clay-limestone, stony, blue and white clay.
Our hundred year old vines are maintained, bringing finesse and aromatic complexity to our wines.
All the vineyards are less than 2km from the Châteauneuf-du-Pape castle, in the village crown.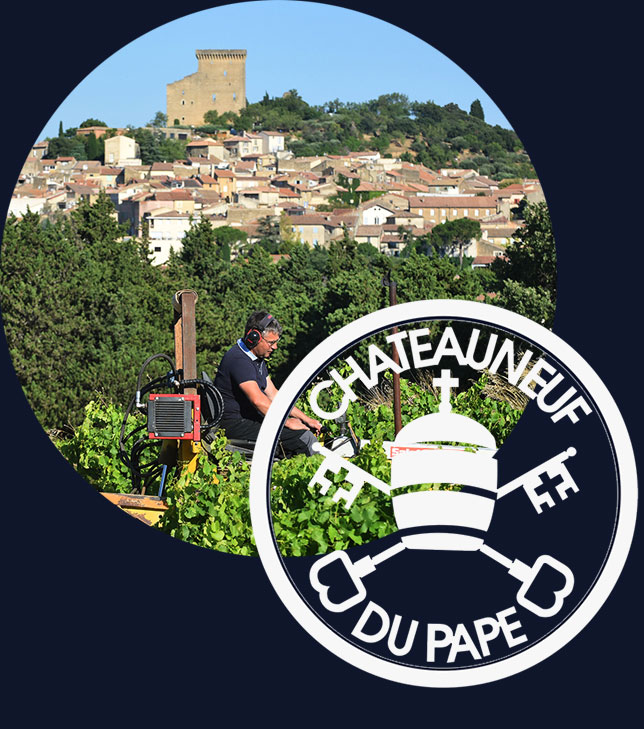 Châteauneuf-du-Pape
appellation.
The Appellation d'Origine Contrôlée "Châteauneuf-du-Pape" is one of the first appellations contrôlées in France.
The decree of May 15, 1936 also concerned Arbois, Tavel, Cognac, Cassis and Monbazillac. It fixed the delimitation of the geographical area and the conditions of production of the appellation. These rules have remained almost unchanged since 1936.
In 1937, the winegrowers' union created an original bottle: the armorial bottle. The coat of arms on the bottle symbolizes a papal tiara placed above the keys of Saint Peter. The inscription "Châteauneuf-du-Pape contrôlé" written in gothic letters surrounds this emblem.